What is the greatest fear of a luxury brand? To lose control of an excellent reputation.
Exclusivity and trust are essential for high-end products. For this reason, luxury branding often leans into risk-averse choices. Creating a magnificent ad or taking on a stylish sponsorship is safer. That road is paid for, controlled and designed to connect with the right target audience and precise approved messages.
But 2023 demands more from lux brands. They need a holistic PR-led approach that generates earned attention and more diverse storytelling. Also needed – a refreshed relevance for next-generation audiences to discover and engage differently with brands. Additionally, lux brands must feel confident experimenting with new approaches and platforms.
Within the 360 integrated model for PR, we find new players, including online influencers. Their remarkable rise is undeniable. Influencer campaigns are already valued in the billions, attracting an ever-increasing share of precious marketing budgets. Can the free-form influencer 'creator' approach fit into the cautious luxury landscape?
Why luxury brands take a different approach to influencer PR
Luxury brands engaging in influencer marketing campaigns have to 'let go' in order for influencers to freely lead their content. That can feel risky with an upmarket target audience.
Good influencers are followed and admired because they are passionate personalities who care about sharing advice and discoveries in an unbiased way. They curate information rather than sell products or brands. Potential customers, for example from Gen Z, gravitate towards this kind of human perspective over a faceless brand.
Sounds great, right? But in the hands of social media influencers, luxury brands no longer control the message. Therefore, luxury brands must choose their partners wisely.
On one hand, influencer marketing campaigns have much to offer within a luxury brand strategy. A new breed of influencers who don't live to sell, (aka Genuinfluencers as coined by WGSN), have devoted followers who trust their taste and interests. The right influencer can provide intimate content-driven access to an ideal niche luxury audience.
However, it can be hard to find a properly matched luxury influencer. For the equation to be right, the company and influencer must have shared values. The influencer must convey the brand's elevated allure while also being relatable and accessible.
Some people may question whether influencer marketing cheapens a brand, damaging its appeal. After all, not all influencers are Geninfluencers. Social media marketing is still something of a nascent wild west where value is subjective. Certainly, joining forces with the wrong influencer can do more repetitional harm than good.
This takes us back to the greatest fear for luxury brands – losing control of a great reputation. A high-end image may come from a special rarity or outstanding craftsmanship. Refinement, creative flair or the company a brand keeps. A beautiful object or an unforgettable experience. Brand sincerity, provenance, or ethics. There is a lot to protect there, but some savvy luxury brands have successfully launched influencer marketing platforms that have served their reputations well.
Foundations of good luxury influencer PR
Today's PR brand building is a hybrid of classic principles and new tools. As ever, its cornerstone is "C.A.R.E.". That's earned Credibility, Advocacy, Relationships and Experiences. A reputation underpinned by those qualities can bring big dividends to a brand image, but it is a slow and steady road to get there.
Long before the internet, PR relied on 'influencers' to endorse brand value and generate content that earned attention. It might have been a celebrity, an expert, an athlete, or simply individuals who spread positive word of mouth with a target market. These kinds of influencers still have a role to play, alongside new online ambassadors. Indeed some are a mix of both.
In recent years the remarkable rise of online influencers has made them into key opinion leaders of a different sort. They are not necessarily famous offline, but have devoted bespoke audiences online. Although not the same as celebrities, there is some crossover. An influencer marketing strategy has become one piece of a 360 degree integrated PR approach.
Tips on creating good influencer partnerships
Choose brand positioning influencers with care, ensuring they align with values

Use influencer marketing for building a solid brand foundation, rather than a fast path to purchase
An

influencer campaign

offering behind-the-scenes access to see products in situ in luxury homes and communities can be very powerful, providing an opportunity to highlight pedigree and craftsmanship (see Addison Ross case study here)
Seek

social media platforms

where luxury audiences dwell. Instagram is a good start. Its new 'collaborative reel' feature tags posts as joint initiatives, naming the influencer and the brand together, and appearing on the feeds of both
If hesitant to launch on a 3rd party social media platform, take a cue from brands such as luxury leader LVMH and make your own internal team into online influencers. LVMH's Maisons content here shows how its most iconic brands are created, narrated by the creators.
Luxury brands are right to proceed with caution but also encouraged to release a little creative control in order to enjoy the more informal and genuine benefits of engaging with a new generation of luxury-loving online audiences.

Be aware that working with truly impactful influencer marketing campaigns means marketing to the influencers themselves. They hold devoted relationships with their followers. Just like reaching out to journalists or reviewers, the good favour of online influencers must be courted in an honest and human way.
The future of influencer PR for luxury brands
For luxury brands, a successful luxury influencer marketing hub will be dedicated to the slow and systematic growth of brand image and desire.
There will likely continue to be affiliate code influencers operating at the low end of the spectrum, looking to convert immediate sales. These are not the right partners for luxury brands.
The future of luxury influencer marketing is not so very different from the past. The most enduring impact will come from earning credibility, advocacy, relationships and experiences, better known as C.A.R.E. This strategically sound approach, in tandem with new methods, will pave the way for luxury brands in the coming years.
Discover Gabrielle Shaw Communications – a luxury PR agency
This article is brought to you by Gabrielle Shaw Communications, a London PR agency that partners with brands and entrepreneurs to unlock their purpose, shape perceptions and cultivate brand desire.
We have decades of experience working with luxury brands as well as Purpose & Sustainability, Retail, Travel, Lifestyle, Beauty & Wellness, Food & Beverage, Interiors and Arts & Culture.
Interested in learning more about how PR can help your luxury brand or business? Our team at Gabrielle Shaw Communications would love to chat. Get in touch.
+44 020 7731 8811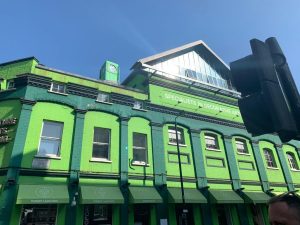 Images ©2023, all rights reserved to original various owners/creators